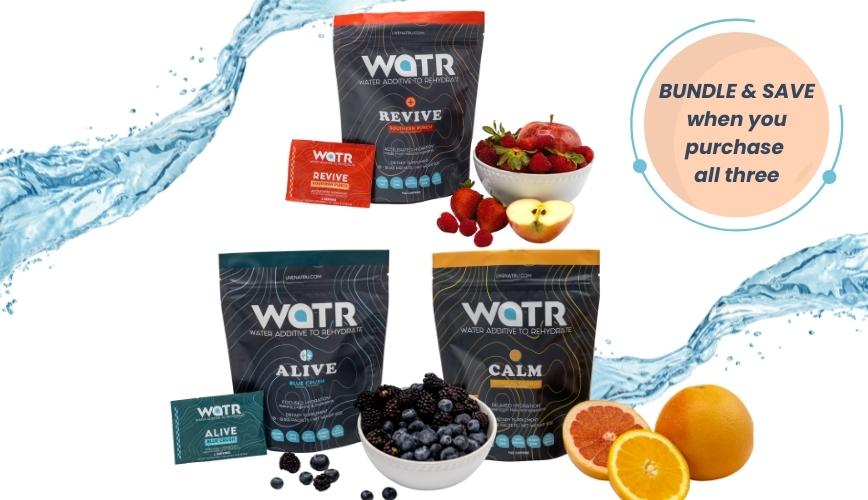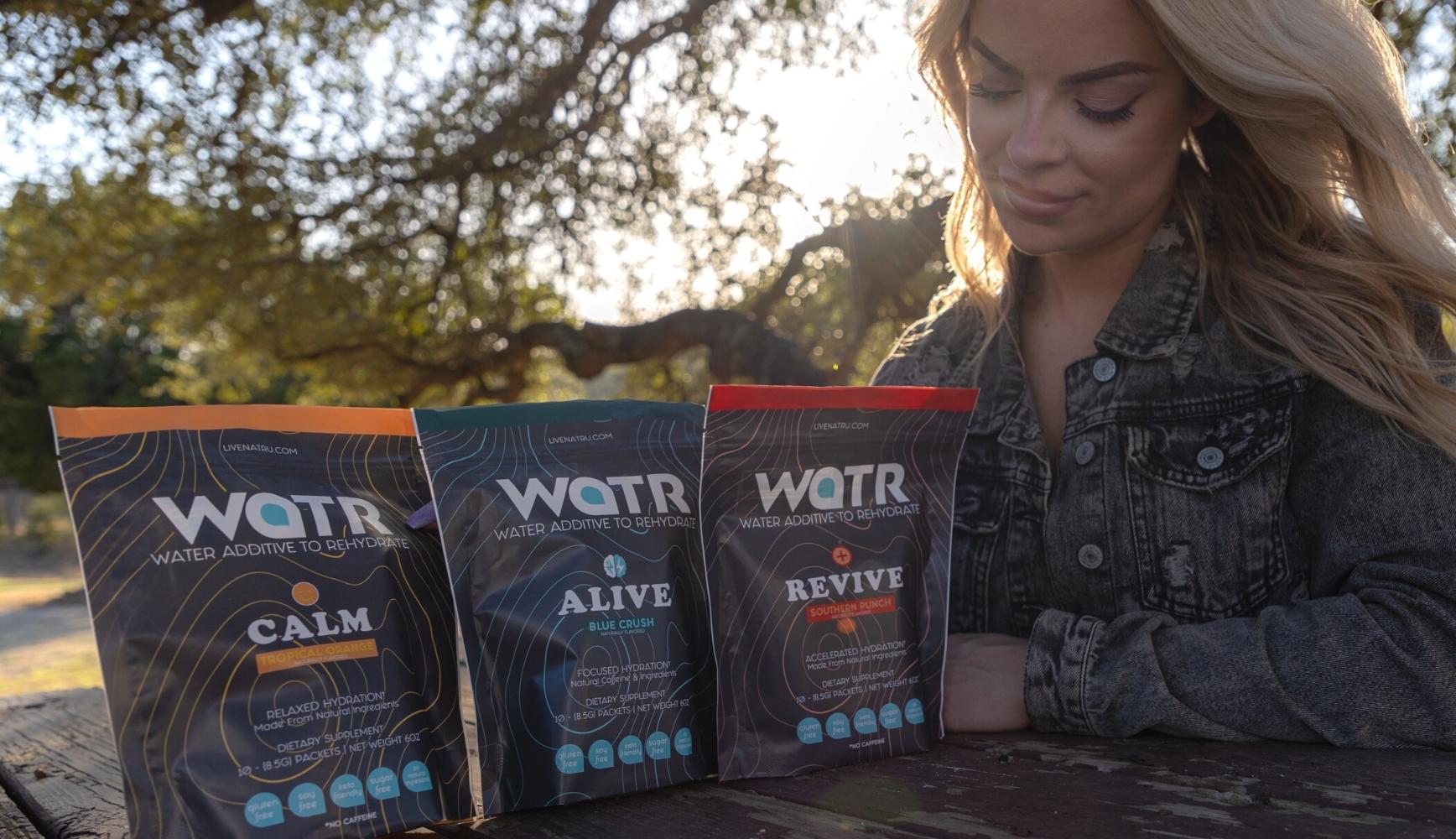 WATR TRIO BUNDLE (30 Pack)
$55.00
Regular price
$62.97
off
NATURAL INGREDIENTS
AMAZING TASTE
Description
The trio bundle is the best deal going. The cheapest and best option to try out every different WATR (Water Additive to Rehydrate) option. You'll also enjoy free shipping with this option. 
The trio bundle includes one bag of REVIVE, ALIVE, and CALM WATR. Each bag has 10 packets inside it.  Here's a little about each of these products.
REVIVE:
Made for those who need the ultimate hydration boost. When we push our body to the limits living our busy lives, it is easy to overlook the importance of consuming the daily essential electrolytes. We partnered with the best labs we could find to come up with the perfect balance of electrolytes and vitamins to give you the best daily hydration experience. Made with all natural ingredients, and sweetened with an all natural sweetener derived from stevia plants, REVIVE is not only very healthy, but also delicious. The product is keto/fast friendly as it contains no sugars or carbs, resulting in nutritional facts containing near zero calories. 
Start feeling better today, by grabbing some REVIVE Watr. 
 ALIVE:
Feeling groggy, tired, or having trouble focusing? Then, ALIVE is the solution for you. We wanted to provide a hydration mixture to those who struggle with focusing on the task at hand. Packed with 100MG of natural, long-lasting caffeine derived from green tea, L-theanine, and other natural herbs and vitamins, this formula is bound to make you more alert and highly affective.
This product was formulated from an all-natural approach. We decided to skip the synthetic caffeine and other toxic substances found in other energy supplements/drinks. We wanted an energy solution you could trust and rely on. By combining these natural energy agents with our hydration formula you are bound to conquer anything in your path. 
This packet will leave you feeling hydrated, energized, focused, and ready to dominate the day.
 CALM:
Designed for those who are dealing with stress, anxious, or wanting to just chill out at work or before bed. We took our standard hydration formula and added in everything to help calm you down & possibly even lower blood pressure. Made with all natural calming agents including chamomile, beet root extract, ashwagandha, lavender, and more, this formula is meant to be the ultimate relaxed hydration solution. 

3 different Bags, 30 packets total. 
Feel more relaxed each day with CALM. Be more ALIVE than you've ever been. Renew and REVIVE your wellness with WATR, your water additive to rehydrate!
What's in the Bag
1 BAG of Revive WATR Accelerated Hydration
1 BAG of Alive WATR Focused Hydration
1 BAG of Calm WATR Relaxed Hydration
3 BAGS = 30 Packets (1 serving per packet)
8.5g each packet
Benefits
WATR has ingredients known to help with...

💧 Rapid Hydration
❌ No Artificial Ingredients
⚡ Loaded with Electrolytes
✔ Balanced Essential
💪🏻 Vitamins & Minerals
✨ Immunity Benefits
🍺 Hangover Cure
😋 Amazing Taste

WATR TRIO BUNDLE (30 Pack)
$55.00
Regular price
$62.97
All WATR products
These products work! They taste amazing and I have felt better every day since taking them
Game Changer!!
There isn't a day in our house where we go without one of our amazing WATR products!
Amazing product
Could feel a huge difference immediately. Great product!
Great product, will be buying more
I had heard about this product throughout social media and read up on it. Decided to give it a try and was very pleased with it. It has definitely promoted me to drink more water to stay hydrated, which as an equipment operator and avid weekend bass angler, I struggle with. All three flavors and mixes definitely fit where they are designated to help with. Hoping I can get my local tackle shop to carry this product. Can't recommend this enough
Not a Fan of Artificial Sweeteners
I have enjoyed WATR and find the product to be top rate; however, I do not like artificial sweeteners. Maybe a future product could use cane sugar or honey as the sweetener.
About
WATR is Hydration with a purpose. Our product has a solution for your specific hydration need. Whether it is our hydration from our baseline REVIVE, or a jolt of focused-energy from ALIVE, or a relaxed hydration from the CALM. We have all ends of the spectrum covered for you.
Our Story
WATR was founded by Avid Outdoorsman & Tri-athletes. We have been there and pushed our bodies to the limits. We have partnered with the best scientist and labs to bring you the secret to human body performance. Our products have been intensively tested and proven in the most vigorous training scenarios and have shown that with WATR, life is just better. 
We Give Back
For every bag of WATR sold, we will donate one pouch of WATR to the U.S. Armed Forces & First Responders. They are the ones making the ultimate sacrifice, the least we can do is to give back and help them.