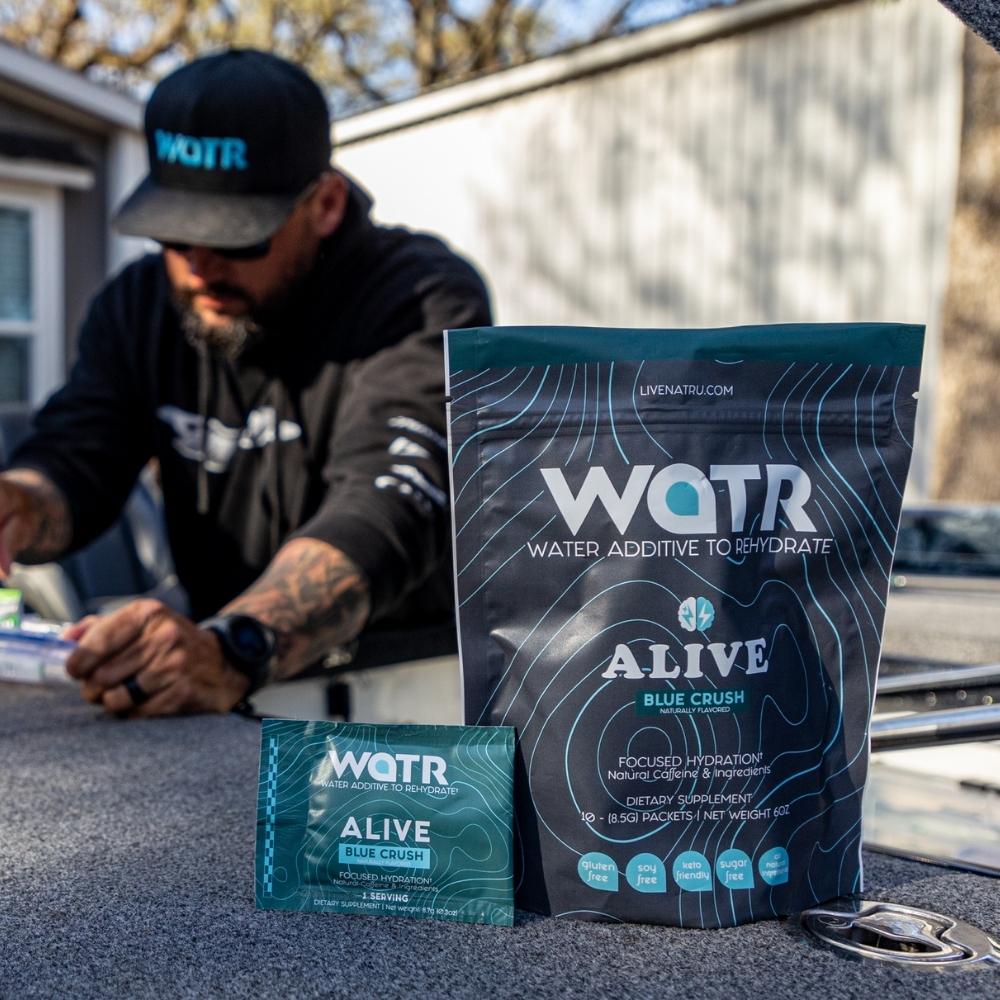 FOCUSED HYDRATION
NATURAL INGREDIENTS
AMAZING TASTE
Description
Feeling groggy, tired, or having trouble focusing? Then, ALIVE is the solution for you. We wanted to provide a hydration mixture to those who struggle with focusing on the task at hand. Packed with 100MG of natural, long-lasting caffeine derived from green tea, L-theanine, and other natural herbs and vitamins, this formula is bound to make you more alert and highly affective.
This product was formulated from an all-natural approach. We decided to skip the synthetic caffeine and other toxic substances found in other energy supplements/drinks. We wanted an energy solution you could trust and rely on. By combining these natural energy agents with our hydration formula you are bound to conquer anything in your path. 
This packet will leave you feeling hydrated, energized, focused, and ready to dominate the day.
What's in the Bag
1 BAG of Alive WATR Focused Hydration
1 BAG = 10 Packets (1 serving per packet)
8.5g each packet
Benefits
Benefits of ALIVE WATR has ingredients known to help with...

⚡ Healthy Energy
✔ No Crash
💧 Rapid Hydration
✨ Immunity Benefits
🧠 Brain Simulation
🎯 Elevated Focus
⚡ More Electrolytes
🍺 Hangover Cure
😋 Amazing Taste
Best Runners Hydration supplement out there!
Forget Liquid IV and all the rest, Alive is the best hydration supplement out there. The added caffeine boost is awesome for those 5k, 10k, and half marathons. Definitely a customer for life!
Great products for all times of the day.
Good. Signed up for recurring orders
I have my crews on a recurring order and myself. This stuff is legit.
Best in the Biz
Team WATR has knocked it outta the park with these!! A million times better than liquid IV and a few others, I HIGHLY recommend 👌
About
WATR is Hydration with a purpose. Our product has a solution for your specific hydration need. Whether it is our hydration from our baseline REVIVE, or a jolt of focused-energy from ALIVE, or a relaxed hydration from the CALM. We have all ends of the spectrum covered for you.
Our Story
WATR was founded by Avid Outdoorsman & Tri-athletes. We have been there and pushed our bodies to the limits. We have partnered with the best scientist and labs to bring you the secret to human body performance. Our products have been intensively tested and proven in the most vigorous training scenarios and have shown that with WATR, life is just better. 
We Give Back
For every bag of WATR sold, we will donate one pouch of WATR to the U.S. Armed Forces & First Responders. They are the ones making the ultimate sacrifice, the least we can do is to give back and help them.