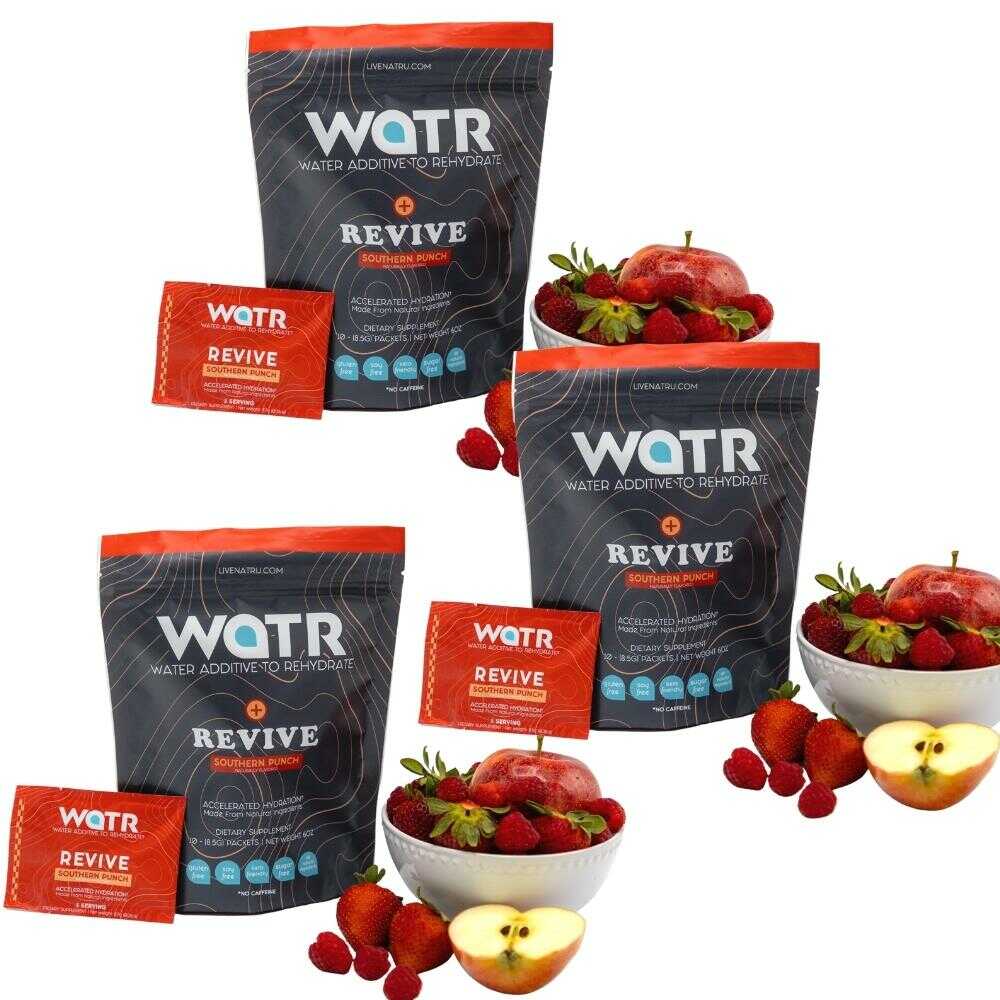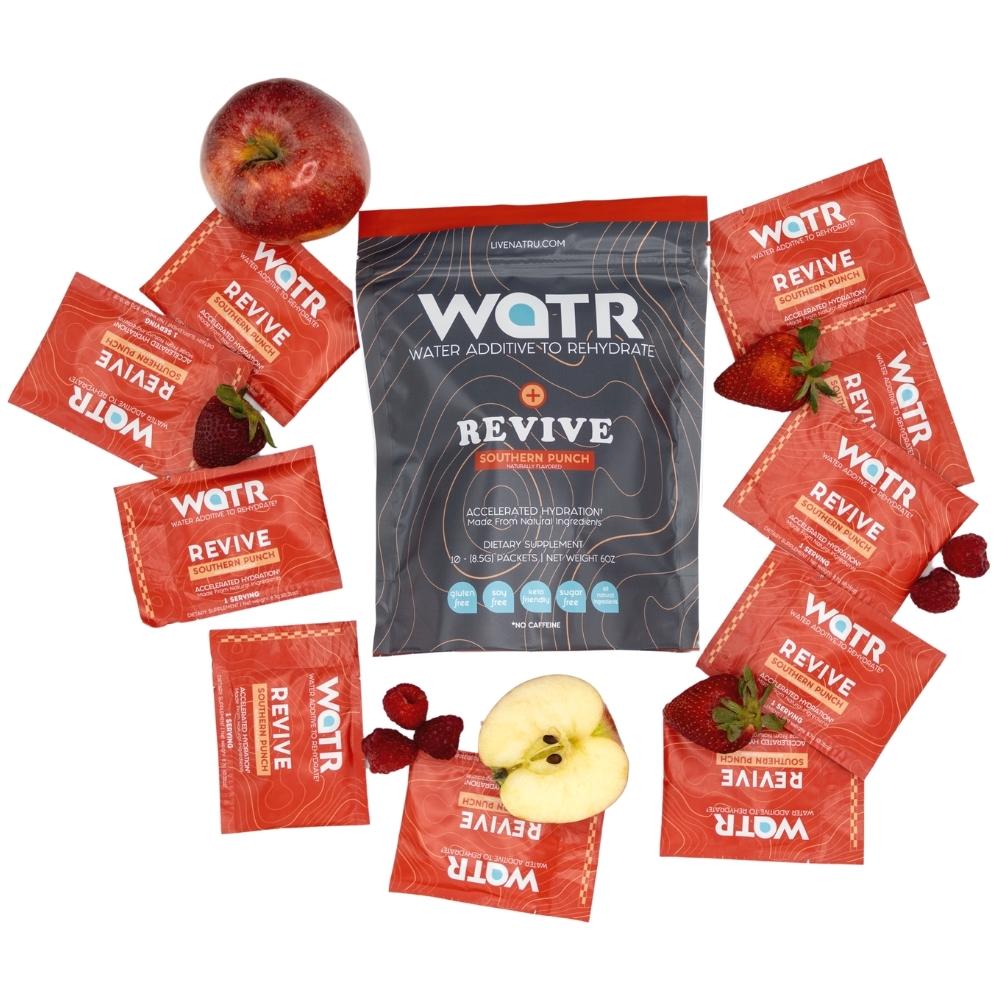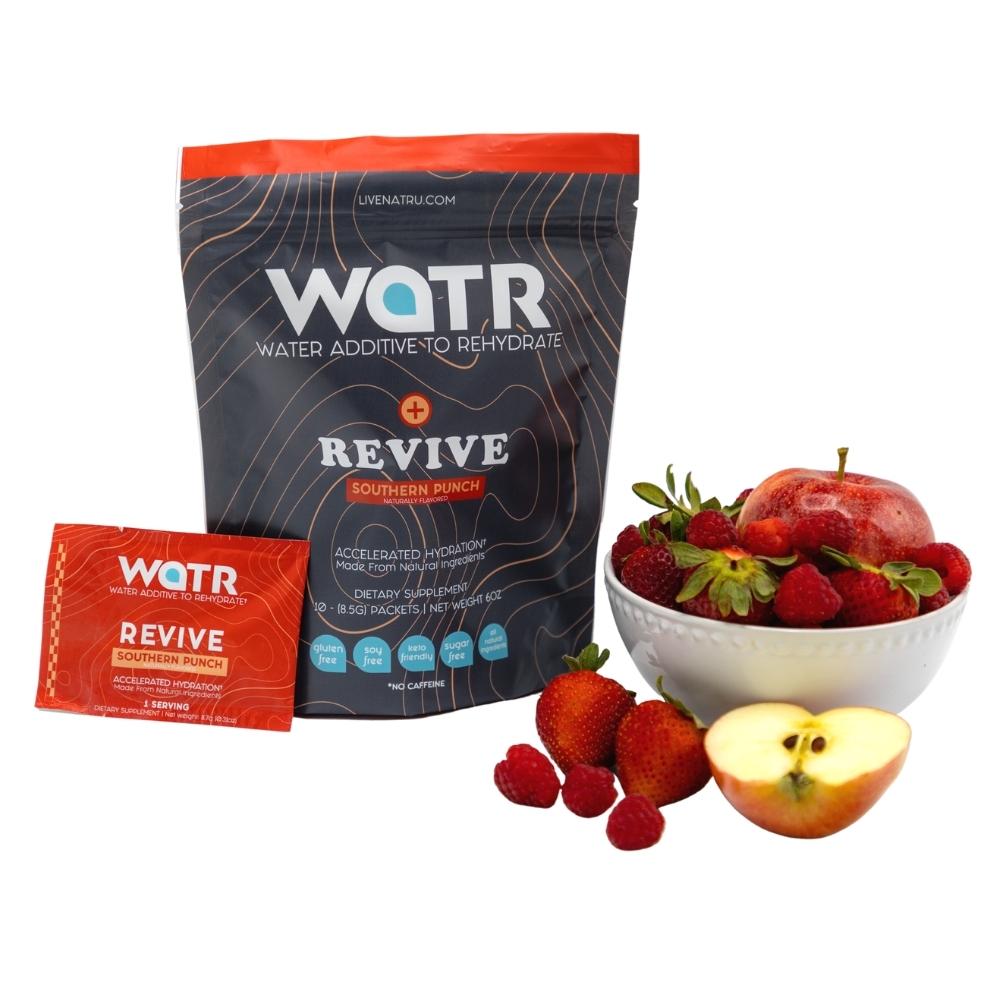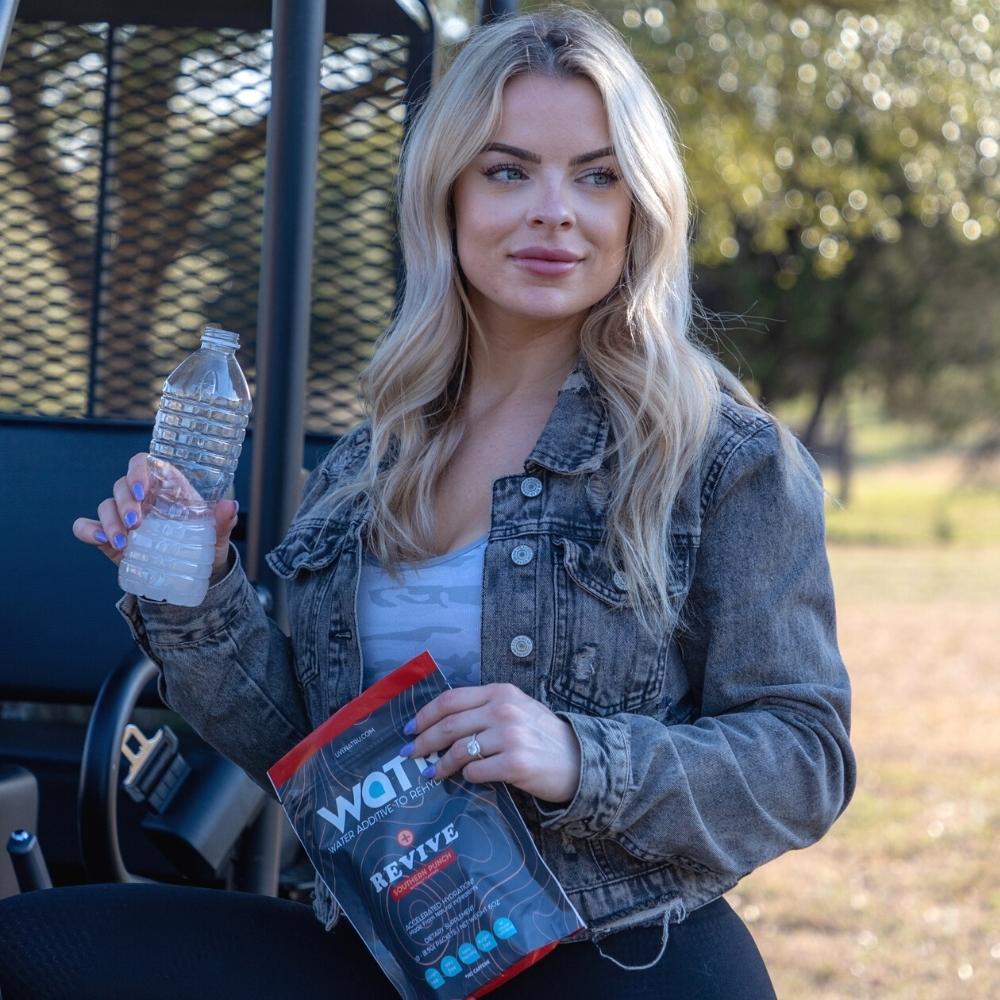 REVIVE WATR BUNDLE (30 pack)
$54.99
Regular price
$59.97
off
ACCELERATED HYDRATION
NATURAL INGREDIENTS
AMAZING TASTE
Description
Made for those who need the ultimate hydration boost. When we push our body to the limits living our busy lives, it is easy to overlook the importance of consuming the daily essential electrolytes. We partnered with the best labs we could find to come up with the perfect balance of electrolytes and vitamins to give you the best daily hydration experience.
Made with all natural ingredients, and sweetened with an all natural sweetener derived from stevia plants, REVIVE is not only very healthy, but also delicious. The product is keto/fast friendly as it contains no sugars or carbs, resulting in nutritional facts containing near zero calories. 
Start feeling better today, by grabbing some REVIVE Watr. 
What's in the Bag
3 BAGS of Revive WATR Accelerated Hydration
3 BAGS = 30 Packets (1 serving per packet)
8.5g each packet
Benefits
Benefits of REVIVE WATR has ingredients known to help with...

💧 Rapid Hydration
❌ No Artificial Ingredients
⚡ Loaded with Electrolytes
✔ Balanced Essential
💪🏻 Vitamins & Minerals
✨ Immunity Benefits
🍺 Hangover Cure
😋 Amazing Taste

REVIVE WATR BUNDLE (30 pack)
$54.99
Regular price
$59.97
Keeps me hydrated and taste great to!
Revive Water Bundle
Bought this for my hubby as he works outdoors in this crazy heat. He drinks plenty of water and and occasional sports drink. He always came home totally drained. Since drinking the Revive Watr, he has noticed a big difference in how he feels at the end of the day. He obviously was not hydrating enough. We will certainly continue to order this awesome lifesaver !!!! And be sure and check out the bundles. It will save you some $$$$'s !!!
Love this product
Hands down my favorite flavor. This product gives me what l need to start my day after a late night. Watr Revive is setting the bar in this competitive market. No shortcuts all natural ingredients great taste. Go get some you'll thank me later!
About
WATR is Hydration with a purpose. Our product has a solution for your specific hydration need. Whether it is our hydration from our baseline REVIVE, or a jolt of focused-energy from ALIVE, or a relaxed hydration from the CALM. We have all ends of the spectrum covered for you.
Our Story
WATR was founded by Avid Outdoorsman & Tri-athletes. We have been there and pushed our bodies to the limits. We have partnered with the best scientist and labs to bring you the secret to human body performance. Our products have been intensively tested and proven in the most vigorous training scenarios and have shown that with WATR, life is just better. 
We Give Back
For every bag of WATR sold, we will donate one pouch of WATR to the U.S. Armed Forces & First Responders. They are the ones making the ultimate sacrifice, the least we can do is to give back and help them.