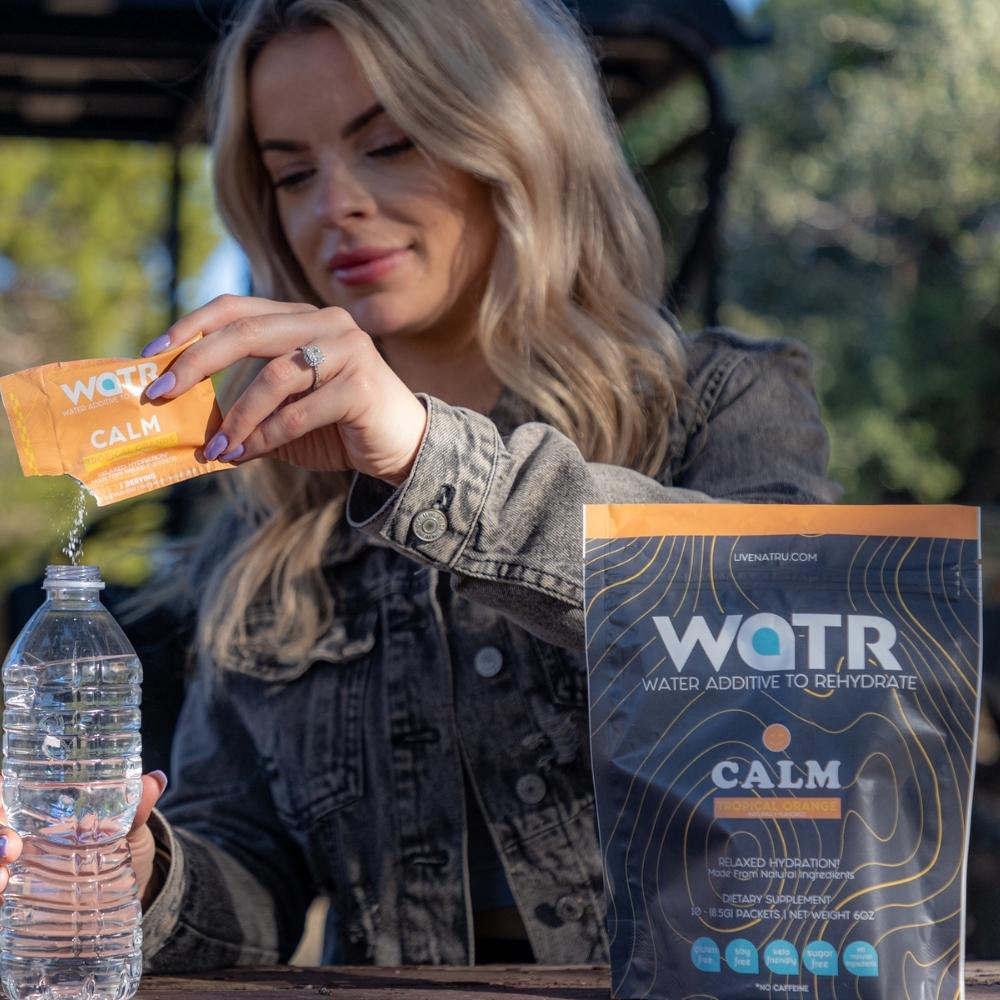 CALM WATR BUNDLE (30 pack)
$59.99
Regular price
$68.97
off
RELAXED HYDRATION
NATURAL INGREDIENTS
AMAZING TASTE
Description
Designed for those who are dealing with stress, anxious, or wanting to just chill out at work or before bed. We took our standard hydration formula and added in everything to help calm you down & possibly even lower blood pressure. Made with all natural calming agents including chamomile, beet root extract, ashwagandha, lavender, and more, this formula is meant to be the ultimate relaxed hydration solution. 
Check out what others have said about Calm in the review section!
What's in the Bag
3 bags of Calm WATR Relaxed Hydration
3 bags = 30 Packets (1 serving per packet)
8.5g each packet
Benefits
Benefits of CALM WATR has ingredients known to help with...

💆🏻‍♀️ Reduce Stress & Anxiety
🧠 Improved Brain Function
🍭 Reduce Blood Sugar Levels
🩸 Lower Blood Pressure
💧 Rapid Hydration
❌ No Artificial Ingredients
⚡ More Elektrolytes
✔ Balanced Essential
💪🏻 Vitamins & Minerals
✨ Immunity Benefits
😋 Amazing Taste
CALM WATR BUNDLE (30 pack)
$59.99
Regular price
$68.97
About
WATR is Hydration with a purpose. Our product has a solution for your specific hydration need. Whether it is our hydration from our baseline REVIVE, or a jolt of focused-energy from ALIVE, or a relaxed hydration from the CALM. We have all ends of the spectrum covered for you.
Our Story
WATR was founded by Avid Outdoorsman & Tri-athletes. We have been there and pushed our bodies to the limits. We have partnered with the best scientist and labs to bring you the secret to human body performance. Our products have been intensively tested and proven in the most vigorous training scenarios and have shown that with WATR, life is just better. 
We Give Back
For every bag of WATR sold, we will donate one pouch of WATR to the U.S. Armed Forces & First Responders. They are the ones making the ultimate sacrifice, the least we can do is to give back and help them.